Contact
Contact address:
Miroslav Mikel - AUTODOPRAVA
Háje 327
760 01 Zlín – Kudlov CZ
IČO: 14640741
VAT reg. number: CZ5912270749
Head office:
Miroslav Mikel - AUTODOPRAVA
Březůvky 226
763 45 Březůvky
Phone: +420 577 982 140
Fax: +420 577 982 142
E-mail:
info@mikel-autodoprava.cz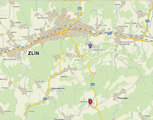 Welcome to www.mikel-autodoprava.cz
Miroslav Mikel-AUTODOPRAVA was founded by Miroslav Mikel in 1992. In our first years of existence, we operated only with one car and a few employees .We were soon making name and began to uphold a reputation for quality service in transports between the Czech Republic and countries of Western Europe, especially
Great Britain and lands of Benelux
. All of contracts we formed are realized by our own vehicles or by vehicles of contract carriers.
Today we are the owner of ten ecological trucks and curtain trailers 13,6 m long. Our drivers are specially trained for transport of dangerous goods ADR and there is necessary equipment in each of vehicle. We offer quality service in accordance with strict international ruling of operation and labour protection, which protect a municipal ecological endangering.
Management and administrative parts of company is compounded entirely by family. Our business was based on quality of delivering services, reliability and responsibility to our achievement. In spite of our company is not very big we get strong position in competitive world of transport. It is the matter of course that our employees have language knowledge.
Strongpoint of our company is human reliability, responsibility, quality and NON-STOP serve.